Hungarian-American Defense and Security Cooperation

Hungarian and American servicemen fight shoulder to shoulder in Afghanistan as well as other key theaters around the globe. Hungarian-American bilateral military cooperation is concentrated in three major areas: joint training, deployment, and operations.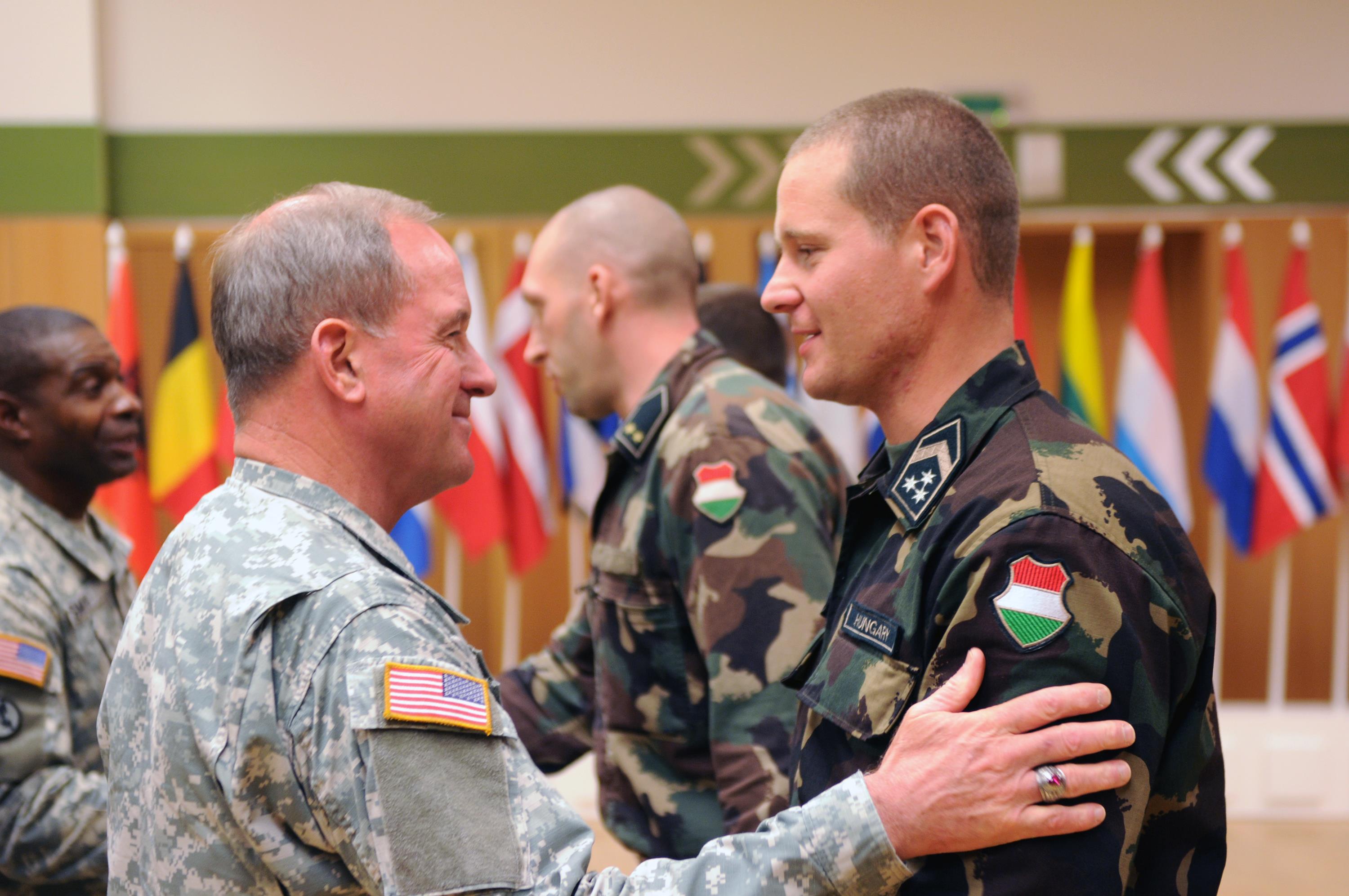 Common education and training take place within the International Military Education and Training program and with training for both senior officials as well as basic officer and NCOs. Military technical cooperation is also The Hungarian government and military emphasize the principle "in together, out together;" that is, the importance of coalition-building and the establishment of a joint plan of participation and exit; a key priority in the pursuit of improved interoperability and efficiency. We also place a premium on interoperability: Hungarian personnel uses US-supplied tactical equipment (HMMWVs, night vision goggles, combat radios) extensively in Afghanistan to increase the combat value of our deployed units.
---
Joint Deployments in Key Theaters Around the World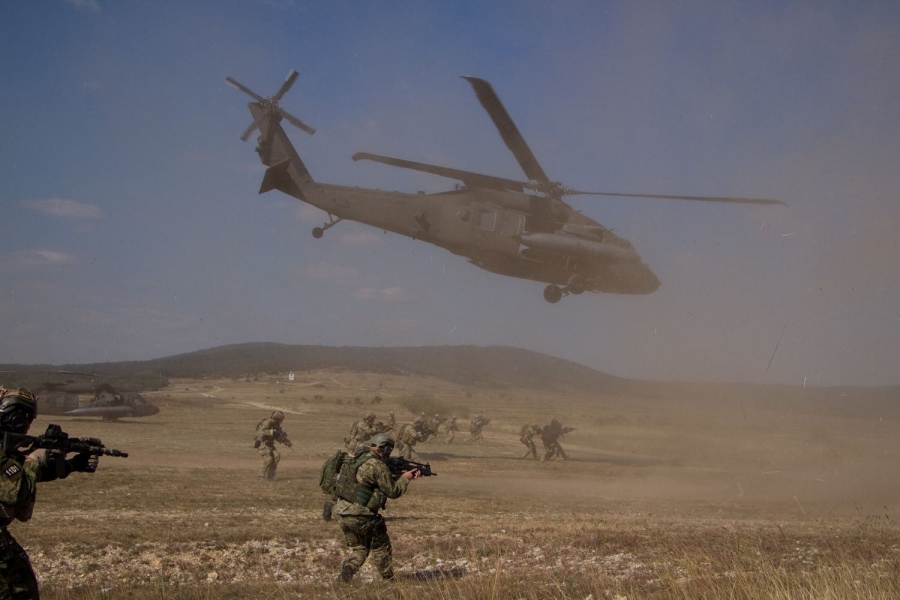 Hungarian and American servicemen fight shoulder to shoulder in Afghanistan as well as other key theaters around the globe. Hungary provides a multi-faceted contribution to the NATO-led ISAF mission, including combat forces that protect Kabul International Airport (KAIA), special operations forces without caveats, and mentors and trainers as well as a Provincial Reconstruction Team (PRT) in Afghanistan's Baghlan Province that has implemented civilian development projects in cooperation with USAID.
Hungary also one of 23 allied countries with troops deployed troops in Northern Iraq as part of the US-led Counter-ISIS coalition. Hungarian Parliament recently passed legislation that will significantly increase Hungarian financial contributions to the counter-ISIS coalition and increase the number of Hungarian soldiers serving in Northern Iraq from 150 to 200. Led by the United States, the Global Coalition to Counter ISIS was formed in 2014 and includes more than 60 nations. The broad international coalition carries out air strikes against the bases of the Islamic State, and trains and arms the Iraqi Security Forces (ISF).
Hungarian and American servicemen and women regularly train together and carry out complex special operations. Our Operational Mentoring and Liaison Team (OMLT), manned jointly in Baghlan with Ohio National Guard troops, has trained and fought alongside a battalion-size Afghan force in its efforts to gain full operational capability. It is hoped the OMLT will soon be redeployed as a Military Advisory Team (MAT).
In 2013 an average of 14% of the overall force strength of Hungarian land forces were deployed across different operations and missions (NATO, EU, and other - over 70 % with NATO) in conformity with NATO's usability target of 10%. Hungary also contributes around 200 troops to Kosovo Force (KFOR).
---
Contributions to Critical NATO Capabilities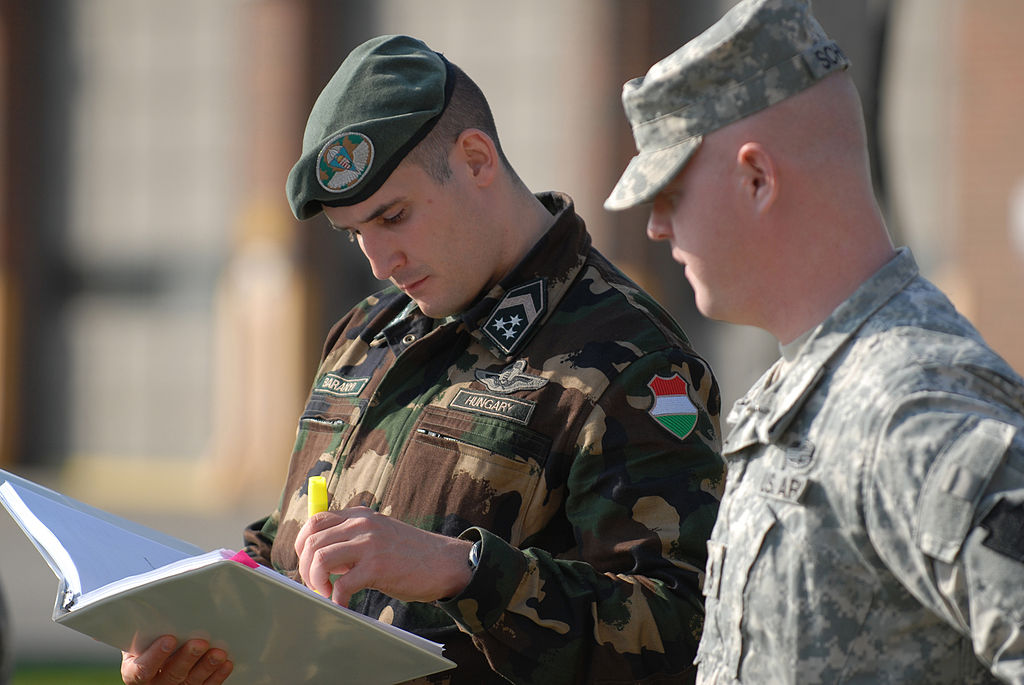 As a regular host and participating member in the Strategic Airlift Capability Program (SAC), Hungary contributes to meeting critical NATO and EU capability shortfalls. The Heavy Airlift Wing (HAW) based at Pápa airbase in Hungary remains the operational unit of SAC and features three state-of-the-art C-17 strategic lift aircraft regularly employed in diverse mission sets including supply missions to Afghanistan and humanitarian missions to Haiti.
In the wake of our losses, Hungary has strengthened its capabilities to counter improvised explosive devices (IED). In order to contribute to saving the life of our and allied soldiers, Hungary conducts NATO accredited advanced counter-IED "train the trainer" courses that help meet one of the most critical threats on today's battlefields.
Hungary also leads NATO's only accredited Military Medical Center of Excellence since 2009. The Center provides cutting-edge combat medical training and expertise to deployed forces. At the NATO Chicago Summit, Hungary announced that it will begin contributing fighter jets to the Baltic Air Policing mission, an important component of our Smart Defense initiative. Our combat aircraft will be deployed to help guard the airspace of Baltic states with no air force of their own, freeing up defense resources that they can invest in other capabilities.
Hungary also participates in NATO efforts to defend against weapons of mass destruction (WMD) by offering chemical, biological, radiological and nuclear (CBRN) defense assets (e.g. a mobile biological laboratory) as part of the NATO Reaction Force.
---
Hungary-Ohio National Guard Paternship



The Ohio-Hungary National Guard Program is one of 22 European partnerships that make up the United States' National Guard State Partnership Program (SPP), designed to link US states with partner countries for the purpose of improving bilateral relations and promoting regional stability.
Established in 1993, the Hungarian Defense Force and Ohio National Guard have conducted over 150 joint operation activities including small unit exchanges, exercises, and senior military and civic leader visits to deployments of Operational Mentoring and Liason Teams (OMLT) in support of Operation Enduring Freedom. In September of 2015, Commander of the Ohio National Guard Major General Mark Barton met with Hungarian Defense Minister Istvan Simicsko in Budapest. 
After almost two decades of close cooperation and joint training activities between the Ohio National Guard and the Hungarian Defense Force, their training was called upon when they were jointly deployed in Afghanistan. Serving side-by-side in the War on Terrorism, these American and Hungarian soldiers have come to form an unbreakable bond in the longest military operation in the history of Hungary.