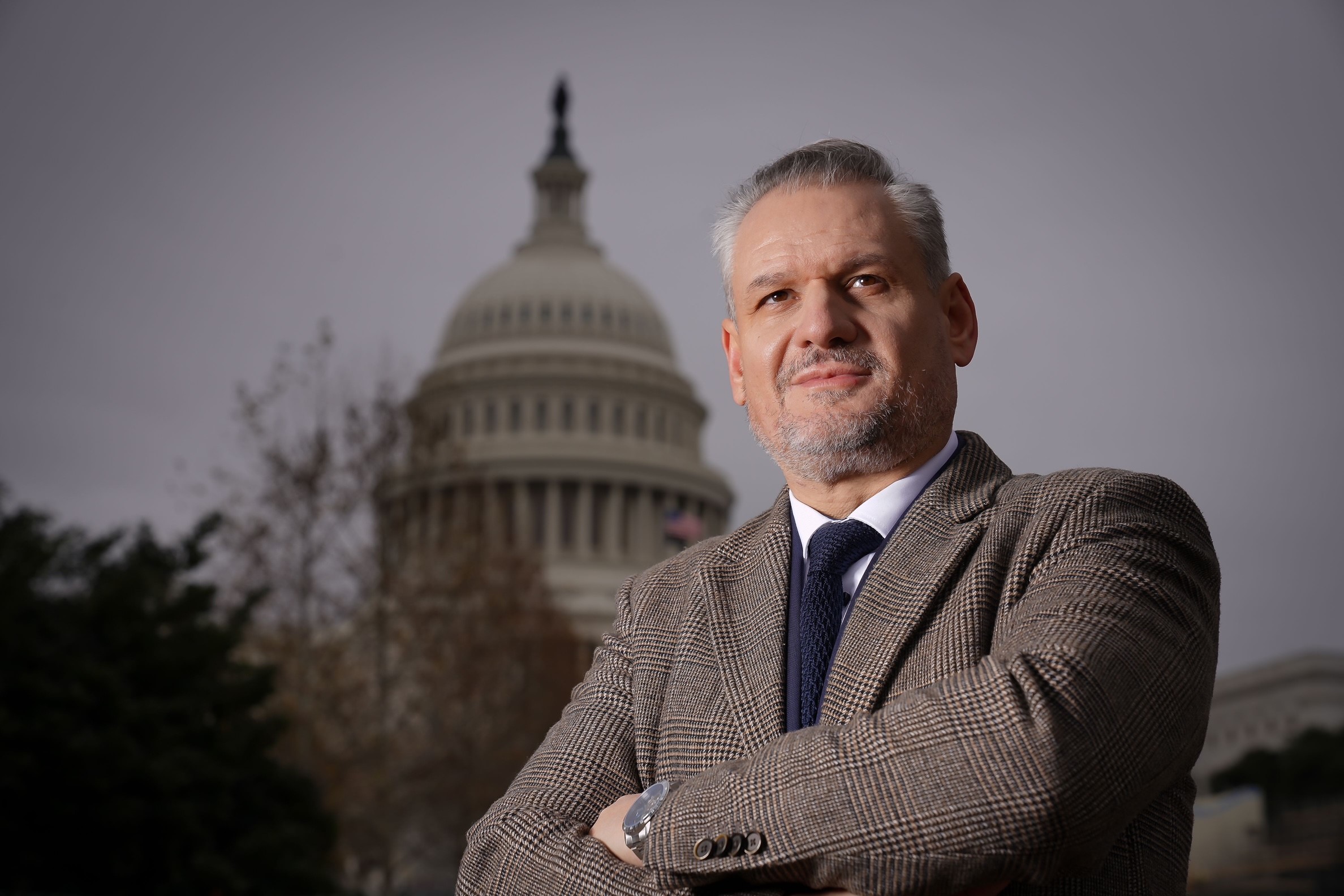 Despite political differences between the U.S. and Hungary, the Central European nation's government sees consistent U.S. investment as a corporate seal of approval for the direction of the bilateral relationship, Ambassador Szabolcs Takács told Global Atlanta.
While there may be hand-wringing in the Oval Office about what some view as the erosion of democratic freedoms in Hungary, corporate boardrooms seem not to have such misgivings, as they continue to pour dollars into the conservative-led country.
Some 1,700 U.S. companies have invested in Hungary, including 40 of the top 50 largest publicly traded firms, and momentum has stayed strong even through the pandemic, Mr. Takács said, a sign that they welcome the country's mix of fiscal restraint, tax leniency and a traditional work ethic the ambassador sees as rooted in a "cultural identity" that values education and hard work.
"Political debates are part of our life. There should be no problem with that in a democracy, especially, but what is important for us is how it is perceived by the foreigners, and especially those who are risking their money," he said. "And as long as they are happy to come to Hungary and as long as they keep coming, we believe that we are doing something good."
The ambassador spoke to Global Atlanta in an interview Oct. 22, the day before a sculpture honoring Hungarians who rebelled against Communist rule in a 1956 uprising was unveiled at sculptor Stan Mullins's studio in Athens.
It was a moment in which Hungary sought to underscore the shared values of the longtime NATO allies, even as some pointed to trouble brewing in the relationship. Hungarian Prime Minister Viktor Orban made known his preference for former President Donald Trump in the 2020 race, famously saying he had "no plan B."
This week, in a snub apparently designed to chasten Hungary for its supposed backsliding on governance and press freedom, the U.S. left the country off the list of participants in President Biden's Dec. 9-10 democracy summit.
In the October interview with Global Atlanta, Mr. Takács said it's natural and indeed expected for the Biden government, which he described as "liberal, left-wing" and the "conservative, right-wing" government of Mr. Orban to clash on some issues — especially social issues like LGBT rights and immigration.
But the disagreements, he said, should be on substance rather than descending into political bickering, noting what he perceived to be a double-standard in media — that to be considered "balanced" it needs to have a left-leaning point of view.
Still, the ruling Fidesz party's use of public outlets to promote government views and its funneling of public advertising funds to private-sector publications increasingly led by former members of the populist government (including Mr. Takács's immediate predecessor — read a Global Atlanta interview with former deputy foreign minister and ambassador Laszló Szabó here.) has raised concerns among activists and allies alike.
Despite all this, the ambassador asserted that in the bilateral relationship, "the reality is much, much better than the public perception."
On critical multilateral issues like security, support for Israel and fighting terrorism —  Mr. Takács underscored Hungary's role as in evacuating Westerners and Afghans from in the midst of the U.S. pullout from Afghanistan — the two sides have converging views.
"We view it through very similar eyes," he said of the emerging landscape of global security.
Mr. Takács, who also serves as Hungary's lead delegate to the International Holocaust Remembrance Alliance, underscored the country's support for the Abraham Accords, which normalized relations between Israel and both the United Arab Emirates and Bahrain.
He noted that Hungary was the only European nation invited to the signing of the pact in Washington by the Trump administration, which brokered the deal, and pointed to the fact that Hungary is managing NATO missions in the western Balkans and in Kosovo.
Even on the issue of a global minimum tax for multinational corporations, a policy prescription pressed by the Biden administration's Treasury Department, Hungary has shown itself to be flexible, Mr. Takács said.
Hungary's national corporate tax rate of 9 percent — lower than the 12 percent of Ireland — is a core component of its competitiveness, but it slowly came around as the last EU member to agree to a framework rate of 15 percent. Hungary's caveat is that the transition should take place over 10 years, with the 9 percent rate staying the same and the remainder coming through other collection methods and perhaps by adding state and local taxes.
"We can be convinced — the key is if there is mutual respect, then we can discuss even the difficult issues," Mr. Takács said.
In Georgia, Hungary has found that respect among business and government leaders the ambassador has found to be like-minded.
"The size of the state and the economy policy perspective is quite similar," he said, noting that Hungary and Georgia are both home to about 10 million people. The state is Hungary's No. 6 economic partner in the United States based on trade data, he said.
During the pandemic, the ambassador said, the country's "pro-vaccination government" has focused on protecting lives while reopening the economy. On the stimulus front, it has eschewed blanket payments to the population and targeted affected sectors.
"We were not subsidizing people on a social basis, but we were trying to help the companies who got into trouble," Mr. Takács said, contrasting Hungary's response with that of Germany and the U.S., which both enacted broad-based stimulus for taxpayers.
In the past 18 months, Hungary has welcomed more than 1,000 investment projects, and economists and rating agencies are predicting 7.68 percent growth in the economy.
The ambassador traveled to the state with a team including the embassy's agricultural attache, Kocsy Bela, to emphasize existing trade ties in this sector and build new investment relationships. During his trip to Athens, he was presented with a proclamation by Gov. Brian Kemp recognizing the spirit that propelled the Hungarian revolution.
Mr. Takács said about 20,000 members of the Hungarian diaspora live in Georgia, and their community organization was behind the commissioning of a statue of a female freedom fighter, who with the help of Mr. Mullins's chisel is just starting to emerge from a block of blue key granite mined in Elberton, Ga. Prominent Georgians of Hungarian ancestry include the late Sandy Springs Mayor Eva Galambos, the Rich brothers of Rich's Department Stores and William Fox of the Fox Theatre.
During a reception at the downtown Atlanta law offices of Hall Booth Smith, where Honorary Consul General of Hungary John Parkerson works as a partner, Mr. Takács pointed to a more recent Hungarian innovator as exemplary of U.S.-Hungary ties: Katalin Karikó, whose work on mRNA research has been integral to vaccinating the world against COVID-19.
It's unclear where the freedom statue will ultimately be placed, but Mr. Takács said it should honor the stories of the 200,000 who fled Hungary under Communist rule and 35,000 who made it to the United States, a few of whom shared stories at the unveiling event.
"It should be in a prominent place, visible, so that it can be visited by young people. This should be part of their education, teaching history. It's very important, because 65 years after the events, memory is just fading away."
Another sculpture with Hungarian connections is seen by tens of thousands of Atlantans every week: Gábor Miklós Szőke's massive steel and bronze falcon, whose 20-foot wingspan welcomes visitors from a perch atop a football base outside Mercedes-Benz Stadium. The stadium is home to the Atlanta Falcons, who commissioned the sculpture, as well as Atlanta United soccer club.
Source: Global Atlanta