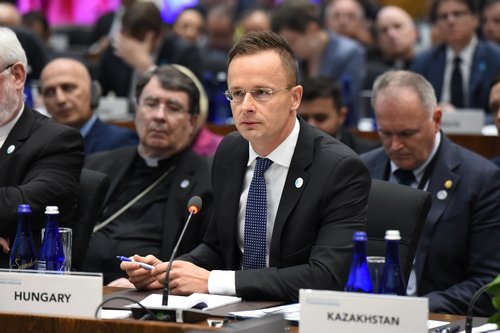 Hungarian Minister of Foreign Affairs and Trade Péter Szijjártó visited Washington fourth time this year, to deliver a speech at the State Department's first-ever Ministerial Conference to Advance Religious Freedom on Thursday, July 26. More than 80 delegations, including dozens of minister-level representatives from around the world, gathered to defend and advance freedom of religion globally, and to honor the personal courage and depth of conviction of survivors of religious persecution, who remained adamant in their faith in spite of great violence to themselves and to their families. Opening remarks were delivered by Secretary of State Mike Pompeo, and the keynote speech was given by Vice President Mike Pence.
During the conference, Minister Szijjártó met Lord Ahmad of Wimbledon, Minister of State for Commonwealth Affairs and the Prime Minister's Special Envoy on Freedom of Religion or Belief of the United Kingdom, Ulla Tørnæs, Minister for Development Cooperation of the Kingdom of Denmark, as well as Sam Brownback, United States Ambassador-at-Large for International Religious Freedom to discuss ways of cooperation on this subject.
Minister Szijjártó convened 25 American stakeholders of religious freedom for a working breakfast at the new building of the Embassy of Hungary, including Mick Mulvaney, Member in President Donald Trump's Cabinet as Director of the Office of Management and Budget of the White House, Congressman Paul Gosar (R-AZ), Kristina Arriaga, Vice Chairwoman of the U.S. Commission on International Religious Freedom (USCIRF), as well as Tony Perkins, President of Family Research Council. After the meeting, participants had a chance to view the roll-up exhibit titled 'Cross-in-Fire: Christian Persecution in the Middle East' and learn about the Hungarian Government program dedicated to supporting persecuted religious communities in the region.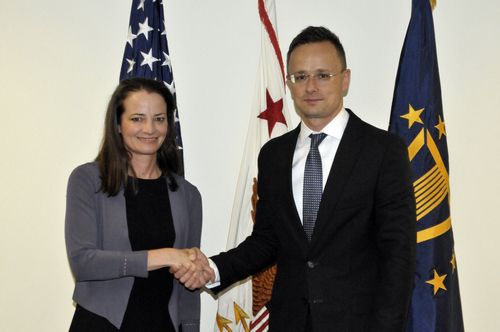 During his visit at the State Department, Minister Szijjártó held talks with Assistant State Secretary Wess Mitchell, and discussed bilateral political and international security issues. He also met Katie Wheelbarger, Acting Assistant Secretary and Principal Deputy Assistant Secretary for International Security Affairs of the Department of Defense at the Pentagon, to talk over details of the bilateral Defense Cooperation Agreement.
Visiting the headquarters of the USAID, Minister Szijjártó had a meeting with Mark Green, Administrator of the United States Agency for International Development and discussed best practices how to enhance international assistance and aid to persecuted communities in the Middle East. Minister Szijjártó held talks with Deputy United States Trade Representative Jeff Gerrish at the USTR and exchanged views on current international trade issues between the European Union and the United States.
Before leaving Washington, Minister Szijjártó gave an on-camera interview to Raymond Arroyo, Anchor of 'The World Over' in the studio of the EWTN Global Catholic Television Network. Click here to watch the interview.